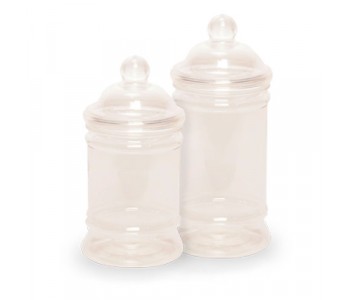 Our Victorian Sweet jars are manufactured from food grade material with exceptionally high level of transparency and strength.
This Victorian Traditional Style Jar is available is two sizes, The largest jar (2585ml) is a typical, traditional sweets shop style jar and is perfect for displaying and serving sweets. It will hold approximately 1.5 Kg of wrapped sweets.
The smaller jars are great for gifts. The 500ml jar will hold up to 350g of sweets . These weights are approximate as it entirely depends upon the content's density.
Jars includes a clear screw-on domed lid
Dimensions 2585ml Jar:
Dimensions 500ml Jar:
Neck Diameter: 110 mm
Height (ex lid): 272  mm
Width / diameter: 125 mm
Brimful Volume: 2585 ml
Material Used: P.E.T.
Container Weight: 120g
Neck Diameter: 70 mm
Height (ex lid): 137  mm
Width / diameter: 78 mm
Brimful Volume: 500 ml
Material Used: P.E.T.
Container Weight: 36g
Neck Diameter: 70 mm
Height (ex lid): 108  mm
Width / diameter: 78 mm
Brimful Volume: 380 ml
Material Used: P.E.T.
Container Weight: 28g
Victorian Traditional Sweet Jar with Lid - Various Sizes